I asked one of my lovely blogger friends, Kimberly at K I M B E R L Y L U X E (special thanks to her!), if I could "repost" this amazing article about starting your natural hair journey and the regimen that persists. This article is extremely fitting for Nappily Ever After & thought it would be a great read for everyone who's looking to start their journey to healthy locs! Enjoy <3
Whether you're natural or relaxed (or aspiring to be one of the two) understanding how to take care of your hair is important for the well-being of your tresses. But you've wanted to start a quote on quote "hair journey", but have been suffocated by all of the information available online and just want to know where to start, ehh? Well, here's my quirky, cute, and most importantly, simple guide to doing just that! I must say -- that this is how I made it easy for me (and others) to understand. Taking care of your own hair and being an at-home beautician not only yields great results but also is a liberating and cost-effective decision that will have you (and your pockets) smiling non-stop this year. And you know what I always say about smiling: smiling more means no need to repair frown lines in the future. So pull out
your journals, or planners
, and get ready to create your very first hair regimen. I recommend writing down these yellow bubbles in pen/ink and then writing down notes underneath them in pencil. Again, everyone's hair is different, and yours is unique and authentic to the touch. Although, I provide the skeleton for your regimen you'll be the doc' formulating it to best work for your hair!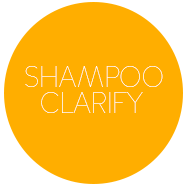 How many times will I wash my hair with shampoo a week/month?
A lot of hair journey'ers feel opposed to the idea of shampooing hair and/or shampooing hair often. Why? Because shampoo has silicones, which are known to strip the hair. Think about it, shampoo was created to clean the hair. And that folks, is definitely necessary, but shampooing frequently means stripping the hair... frequently, which can't be a good thing, right?
So you first want to decide how often you want to shampoo your hair a month. I like to shampoo my hair every 2 to 4 weeks, or as needed. I always add "as needed" to everything I do to my hair, because if it needs it -- I'm doing it. Next, you want to decide what shampoo you'd like to use on your hair. I recommend with each of these yellow bubbles you choose two products that you can switch between. If you aren't interested in using more than one product, you can always switch between two so that you can figure out which one your hair finds the tastiest. Another thing that a lot of journeyers love, is to pick shampoo's that are silicone and/or sulfate free. For me, I like using Apple Cider Vinegar. People would consider this a "clarifier" as opposed to a "shampoo" (to me, same purpose). I like it because it's a natural alternative, it loosens my curl pattern (kinks, curls, naps, & coils), and it also gets rid of all of the product build-up in my hair that accumulates over time. I also use, Aphogee's Shampoo for Damaged Hair. The Aphogee line has worked worked wonders on my hair because it repairs & reconstructs every aspect, with each use. So figure out how often and what products, but be sure to follow up with a conditioner.
Salon cost: $30-80, Your cost: Approximately 10 cents to $2 each ($5-40 for about 10-25 washes)
How often will I Deep Condition my hair a week?
This is my hair's favorite thing. Deep Conditioning, keeps my hair moisturized for days at a time, penetrates my hair shaft, softens up my curl pattern (kinks, curls, naps, & coils), and provides my hair with nutrients. I personally believe that deep conditioning regularly, is what has made my hair strive the most, and I also believe that if more people with afro-textured hair would adopt this concept, their hair would also strive. We, with afro-textured hair, are taught at a young age that we shouldn't wash our hair regularly. This is the case when it comes to using shampoos however it is not the case when it comes to Conditioning. Conditioning, is nourishing and necessary to the hair! What makes deep conditioning different than conditioning? It's left on the hair for an extended amount of time with heat (dryer or shower cap left on head) as opposed to rinsed our regularly. So, how often do you want to deep condition (dc) your hair
a week
? When my hair was relaxed regularly, I did this every 3-4 days or once a week. Now that my hair is no longer getting perms regularly I do this every 2-4 days, as needed. Notice the "as needed", term again. With building a hair regimen, you can even select days. M & F or T & R, for example. This doesn't work for me because my schedule varies on a weekly basis. Giving myself a time lapse makes it easier for me because I'm given enough lenience for customization. You can even start out by just deep conditioning once a week and go from there! ● Also: Choose one moisture-based deep conditioner and one protein-based deep conditioner. I have a post en queue that elaborates on the moisture-based products vs. protein-based products concept more. For now, I want to make sure we're all on the same page with the regimen building. In short, when your hair gets too dry, you want to use your moisture-based products, which will infuse moisture into your hair. And when your hair gets too soft and/or brittle, you want to use your protein-based products, which will strengthen your hair. You can do a simple Google or Youtube search to know which products are considered what. My preferences? Moisture-based, QP Elasta DPR+. Protein-based, Organics Root Stimulator Hair Mayonnaise
or
Egg + Avacado + Honey + Oils mixed.
Salon cost: $30-70, Your cost: Approximately 10 cents to $2 each ($5-40 for about 10-25 washes)
How many heat passes will I give myself each month?
Leaving the heat
alone will keep your hair... alive! When your hair dies from the heat it cannot be risen from the dead. So either limit it, slowly, or use a heat protectant and keep the temperature below 425. Heat burns hair at 451.4 degrees Fahrenheit. If your flat iron doesn't have temperatures on it do some further research on their site or write the manufacturers who will be able to tell you. There are a lot of heatless hair styles that can be done with rods, curlformers, pins, etc., that you can sleep in over night and take out the following morning. You'll be surprised to know that your curls will last much longer than the 15 minute fry-job. I give myself two heat passes a month -- with "roll over minutes", that carry over into the next month. ;]
Salon cost: $20-60, Your cost: Free (well, a one time fee to purchase the tool -- a worthwhile investment will last a few years).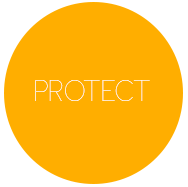 I will protect my ends, 95% of the time.
If length is what you're after, start chasing your ends. Your new growth will grow, but your ends are what have the capability to snap, crackle, and pop. Protecting your ends is key to retaining length. In order to do so you must: ● be gentle to them, touch them using your most softest touch ● hide them, when possible rock buns, pin them away, and/or keep them away from friction ● tie down nightly, friction from your pillows & sheets will break your hair on a regular baseis ● keep them moisturized, so they are always hydrated and nourished ● keep them tailored, trim once or twice a year or as needed When it comes to drying your hair, air drying is God's gift to hair. I always side-eyed this concept before because I automatically thought I'd have a Chia Pet growing on my head after I was done with it, but no ma'am -- that's what Leave-In Conditioners are for (-inserts "ooohhh"). When I'm done washing / deep conditioning my hair and detangling it, I mold it into a bun or ponytail -- using Cantu Leave-In OR Garnier's Leave-In, tie my hair down with a scarf, rock it for the day and when its dry it's breezy, lightweight (because the product build up is gone after a wash), and soft. Oh, and it's not tangled like I assumed it would be. And if your hair is straight it'll also come out straight. Love it! The key to all of this is effective washing is to not go crazy with your hands while washing, but instead to let the water flow down and run through your hair. I part my hair into four and let the water flow down, while leaving everything in the same position- and then I pat it dry using an old t-shirt (to reduce damage). Going heatless is possible, as long as the steps leading up to it are done right ;].
How many times a day will you moisturize your hair?
Our hair is a lot like plants, a flower, if you will.
No moisture = dry, brittle, dead. Keeping hair moisturized is the key to seeing it strive. Hair should be moisturized before molding it into a style and before combing through it. I love using QP Elasta's Hair Mango, so far it's the only thing that works great for me. As for method, I believe the baggying method is Queen. The bagging method is having your hair (or parts of your hair) in a shower cap or the plastic of your choice and letting it create a Greenhouse-like environment on your hair. Just like deep conditioning, your hair will be well moisturized (all the way through the shaft) using naturally created heat. I do this at night: Put my moisturizer and oils on my hair, put on a shower cap, tie it down with a scarf, and go to sleep. I wake up with hair that is soft and moisturized enough to last throughout the day! So what's moisturizing and sealing? You moisturize using your moisturizing products then you apply the oil or oil mix of your choice to "seal" or lock in the moisture. Locking in the moisture is important so outside factors (wind) won't be able to get to the moisturizer as easily! ;].
And lastly, choose the oils of your choice. I like Castor (thickens & strengthens), Coconut (penetrates the hair shaft), and Extra Virgin Olive Oil (softens & adds shine) mixed together. There are SOOOO many oils you can choose to use on your hair! It's just about researching them and finding which ones works best for you! Add them to your conditioners and moisturizers for that extra
biplity-blam
. Some other popular hair oils, aside from the ones I've already listed, include, but are not limited to: ● Jojoba ● Lavender ● Peppermint ● Moroccan ● Rosemary
Congrats! You've created your first hair regimen!
It'll change by season and as your hair changes. You'll also decide to throw in the fun Hair Regimen Treats like Protein Treatments, Hot Oil Treatments, Trims, Prepooing and so much more. MODERN GIRL TIP Use the calendar view side of your planner or phone calendar to document your S or DC days. It'll make it easier to see the frequency of your shampoos and deep conditionings ;]. You'll be able to "listen" to your hair by letting go of products that are dry or break your hair. I hope this was helpful and that you're on your way to having hair health that will keep you, your hair, and your pockets happy this year!
Shampoo/Clarify
Every 2 to 4 weeks, as needed. | Apple Cider Vinegar or Aphogee Shampoo for Damaged Hair
Deep Condition
Every 2 to 4 days, as needed. | QP Elasta DPR+ or ORS Hair Mayo
Heat Pass
Two heat passes per month. | Flat iron, 425 degrees or cooler
Protect
All of the time, if at all possible. | Buns, Pinned Up Do's
Moisturize & Seal
Nightly, using the baggy method + Daily, during styling. | QP Elasta Hair Mango followed by EVOO, Castor Oil, Coconut Oil Mix Want to see pictures of my arm pit length hair that shrinks a lot when twisted & curled?
click here
. Image credit for picture above?
here
.
Post courtesy of
K I M B E R L Y L U X E